During the Thanksgiving season, it seems especially appropriate to make sure your employees know their work is appreciated – that their work matters!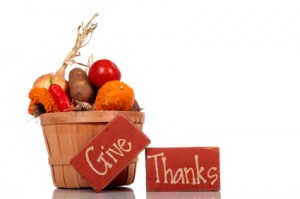 In one recent Globoforce survey, 39% of employees report that they don't feel appreciated at work.
This trend is rising.
Even more eye-opening, 69% say they would work harder if they felt their efforts were better recognized. And 78% said being recognized motivates them in their job.
As a leader, there are many ways you can do this. To help employees feel appreciated, you don't need trophies, ribbons, plaques or complicated strategies. Just simple no-cost actions.
If you need ideas that go beyond the "good job" accolades you typically hear, consider these suggestions:
Give specific in-the-moment feedback to employees. Don't wait for the annual performance review. Timely feedback will be appreciated and motivating to employees.
Show interest in the process. As a manager you're conditioned to focus on results, right? Nothing wrong with that. Ask the employee how they achieved the result. There's something gratifying about being able to tell someone what you had to do to achieve the outcome. Their story may reveal something you were unaware of – like special skills you can leverage or obstacles you can help minimize.
View their performance through three different lenses – what you …
SEE,
HEAR, or
FEEL
Here are some questions for you to think about, and examples of phrases you might use:
QUESTION: What's something specific you've seen or observed about the employee's work?
"I saw how pleased the client was when you responded to their problem so quickly."
"I noticed that you've increased your sales by 10%."
QUESTION: What's something specific you've heard about the employee's work?
"I heard positive feedback on your presentation to the board."
"I heard you've been staying late every day to finish the project."
QUESTION: What's something specific you've felt about their work?
"I was excited to learn you won the case."
" I was relieved to know you would be leading the project."
" I felt confident about promoting you."
These kinds of examples may seem basic, but that's what great leadership is ultimately about – returning to interpersonal fundamentals that help people succeed. One of those fundamentals is showing appreciation by giving positive feedback.
A simple acknowledgement goes a long way.
If you're an internal processor, you may have to make a little extra effort to verbalize your thoughts. You might find yourself thinking, "I thought I told him how pleased I was…" But you told him that in your head. (I often do that myself.)
When you're especially busy, you may not know if you actually spoke the thought, or merely thought the thought. Err on the side of telling the person again. People rarely feel appreciated enough.
Be an appreciative leader. You'll set yourself apart. More importantly, it will mean a lot to those you lead. People like working for people, and in environments, where their work is appreciated. Lucky for you, it doesn't take a lot of time — just a little more thought to remind people that you appreciate what they do.